On November 7 the Alxa League airship base, in North China's Inner Mongolia autonomous region, became the birthplace of the largest airship in the world.
The Buddhist Culture Institute of Inner Mongolia Normal University was inaugurated on Nov 11 thanks to cooperation and joint efforts of the Institute of World Religions of the Chinese Academy of Social Science (CASS) and Inner Mongolia Normal University.
China's central government has allocated 2 billion yuan ($327 million) to encourage the protection of grassland ecology, changing livestock and husbandry development, and increasing farmer incomes.
In bustling Chinese cities, urbanites use social media for chat and work; in the vast grasslands of Inner Mongolia, nomads depend on it to sell cows and search for lost horses.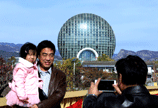 Companies in Beijing and surrounding regions have stepped up their efforts to reduce pollution to maintain blue skies during the APEC meetings.
The project of the Inner Mongolia autonomous region's first ultra-high voltage (UHV) power transmission line was officially launched in the county of Duolun in the autonomous region on Nov 4.
The building technology promotion center of the Inner Mongolia autonomous region recently unveiled a building efficiency label system.
Zabaykalsky Krai, a federal subject of Russia, held its investment potential promotion conference in the Inner Mongolia autonomous region's capital, Hohhot, on Nov 3.
A fire ceremony held to pray for blessings commenced Bayannur of Inner Mongolia autonomous region on Jan 20.
Inner Mongolia has promoted winter tourism via an assortment of festivals and events and to present its natural resources alongside unique nomadic culture.