The Buddhist Culture Institute of Inner Mongolia Normal University was inaugurated on Nov 11 thanks to cooperation and joint efforts of the Institute of World Religions of the Chinese Academy of Social Science (CASS) and Inner Mongolia Normal University.
Seven leagues, cities in Inner Mongolia get jurisdiction over foreign-invested enterprise registration
In bustling Chinese cities, urbanites use social media for chat and work; in the vast grasslands of Inner Mongolia, nomads depend on it to sell cows and search for lost horses.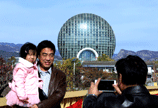 Companies in Beijing and surrounding regions have stepped up their efforts to reduce pollution to maintain blue skies during the APEC meetings.
Baotou Aluminum Industry Park was approved as a national urban mineral demonstration base by the National Development and Reform Commission and the Ministry of Commerce.
The project of the Inner Mongolia autonomous region's first ultra-high voltage (UHV) power transmission line was officially launched in the county of Duolun in the autonomous region on Nov 4.
The financial department of the Inner Mongolia autonomous region announced on Oct 29 that it had planned a special fund to restructure its economy.
The building technology promotion center of the Inner Mongolia autonomous region recently unveiled a building efficiency label system.
A fire ceremony held to pray for blessings commenced Bayannur of Inner Mongolia autonomous region on Jan 20.
Inner Mongolia has promoted winter tourism via an assortment of festivals and events and to present its natural resources alongside unique nomadic culture.